There is nothing else like the Core Bench on the market
Your Personal Home Gym!
The Core Bench is patent protected and you can only get it from McCall Fitness.  It's absolutely amazing!  The Core Bench has the capability to transform into 12 different pieces of exercise equipment, providing the quality and durability as what you would find in a commercial gym.  To accommodate these same 12 pieces of exercise equipment, you would need approximately 500-600 sqft of extra floorspace.  The Core Bench can provide the same full body workout using only 7ft x 2ft of floorspace.  The Core Bench's unique design provides over 60 different exercises.
Let your imagination and the Core Bench customize your full body exercise program!
​Everything you need from the luxury of you home!
Say "goodbye" to the monthly gym dues, traffic, gas expense, waiting for equipment, getting stuck in conversations that extend your workouts longer than you want. Workout on your own schedule and have the convenience of doing it from home.  Exercising from home helps provide consistency, which will then help expedite your desired health and fitness goals!

Flat Bench Press

Incline Bench Press

Decline Bench Press

Military Press
Hyper Extension

180 Degree Leg Lifts

Oblique Extension

Preacher Curl

Decline Bench Press

Leg Curl

Leg Extension
Calf Raise












Why spend more money than you have to?
Our product innovations are fueled by our desire to provide our customers with affordable tools to help them transform their bodies and their lives. Our exceptionally engineered design and human factors testing have played an important role in bringing the Core Bench to life.  Our inspiration comes from knowing that we can help facilitate the unlocking of powerful physical potential for all those who may use our products.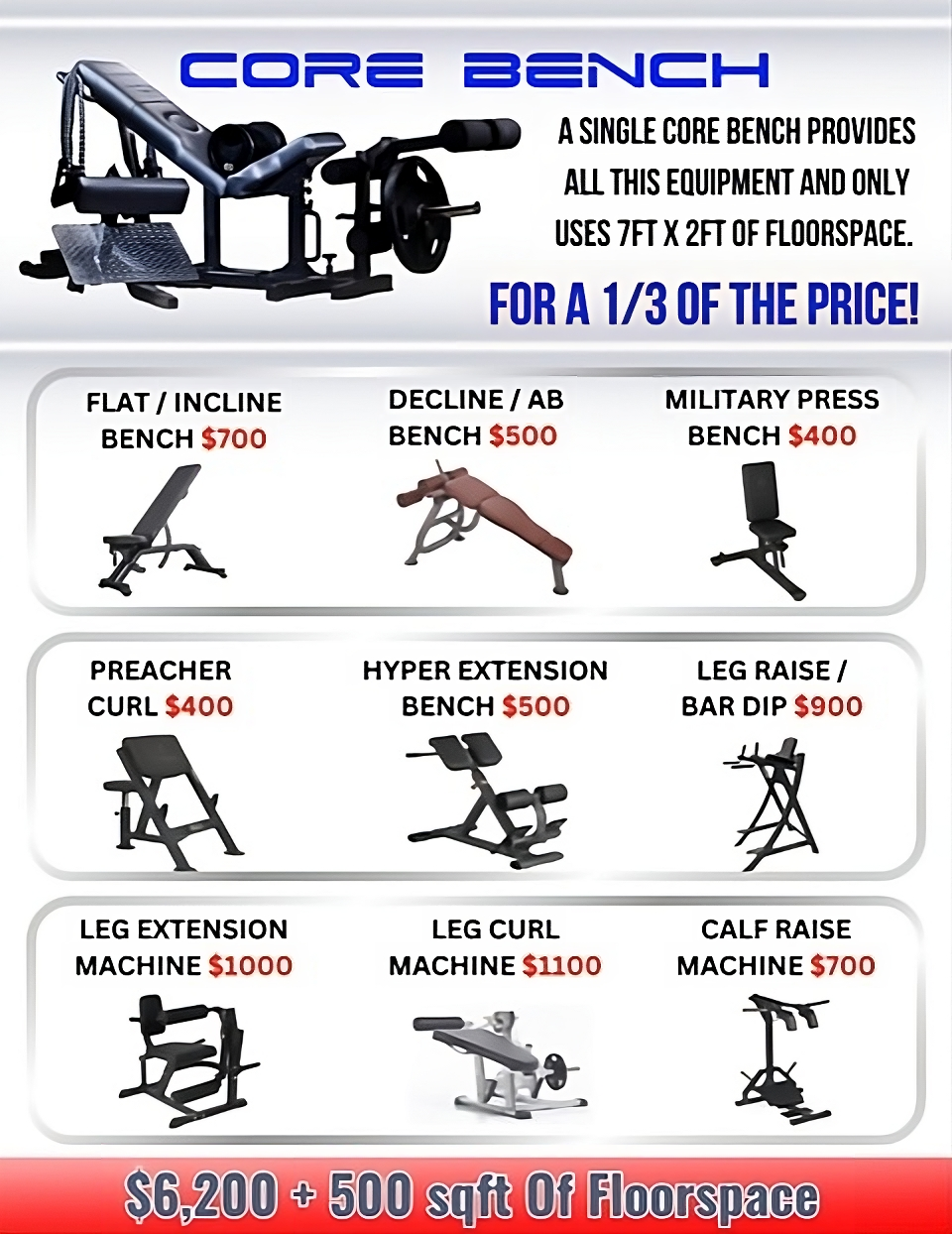 How does the Core Bench stand up to the other "Full Body" exercise equipment competitors?
I've been passionate about fitness for over 30 years.  I've played multiple sports, I was a bodybuilding fitness competitor, and the head Physical Training Instructor for law enforcement academies.  Some of our competitors, insist on hiring professional athletes to market their products.  These professional athletes were in fantastic shape long before these pieces of equipment below were ever created. The equipment the Core Bench can transform into, is the same type of equipment that helped these professional athletes achieve success and dominate in their professional sport.
Less Expensive & Provides More!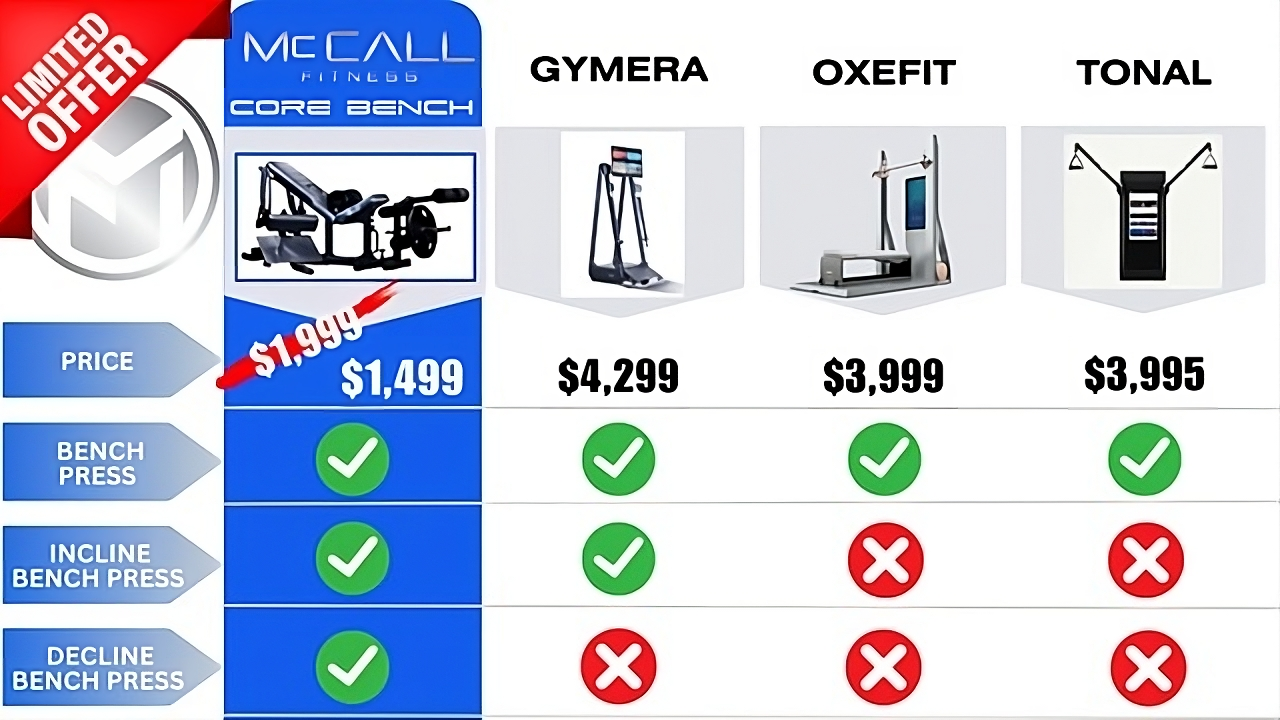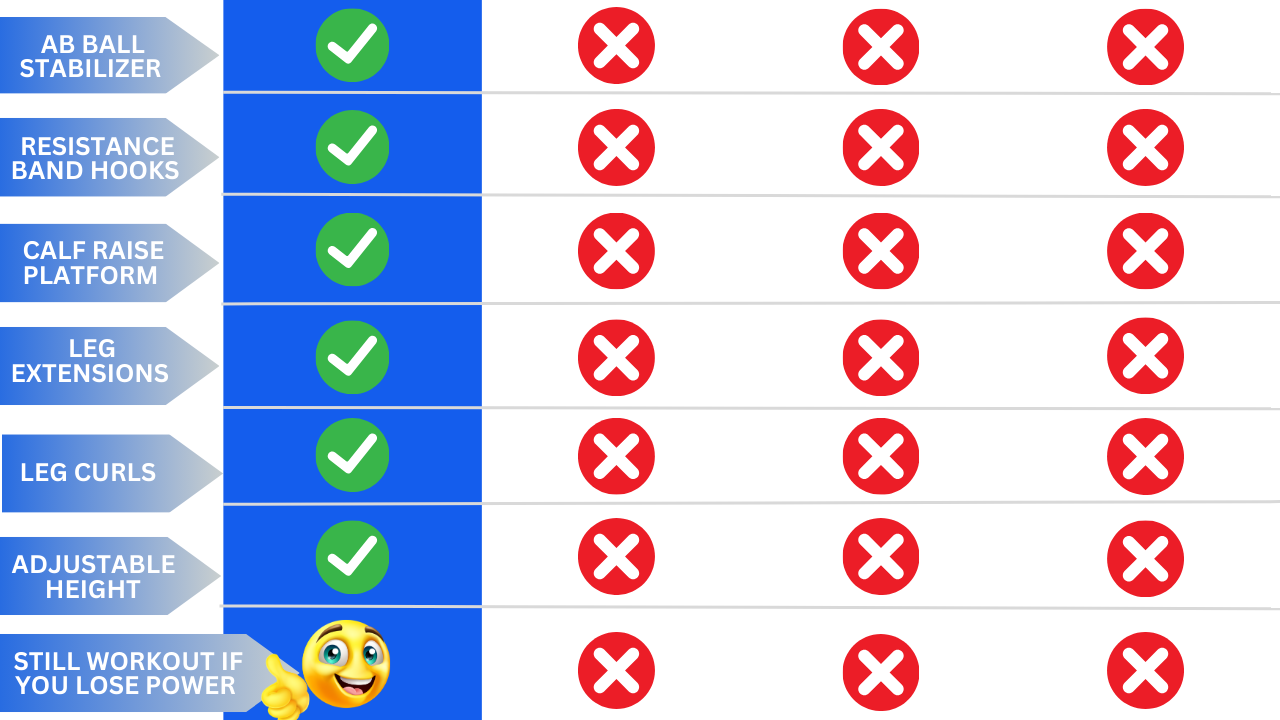 Adjustable Dumbbells
AMAZING DESIGN!
Our adjustable dumbbells are perfect for your home gym!  One set of dumbbells doing the work of 16 sets (5-80lbs).  Stay organized, clean, and have more space! Get a FREE dumbbell storage rack (valued at $185).
Shop Now
We want to help you on your journey!
Through our YouTube channel you'll be able to access workout videos to help you along the way.  These Core Bench workout videos will cover the use of our adjustable dumbbells, resistance band training, and workouts using your own body weight to help you get the results you're looking for!